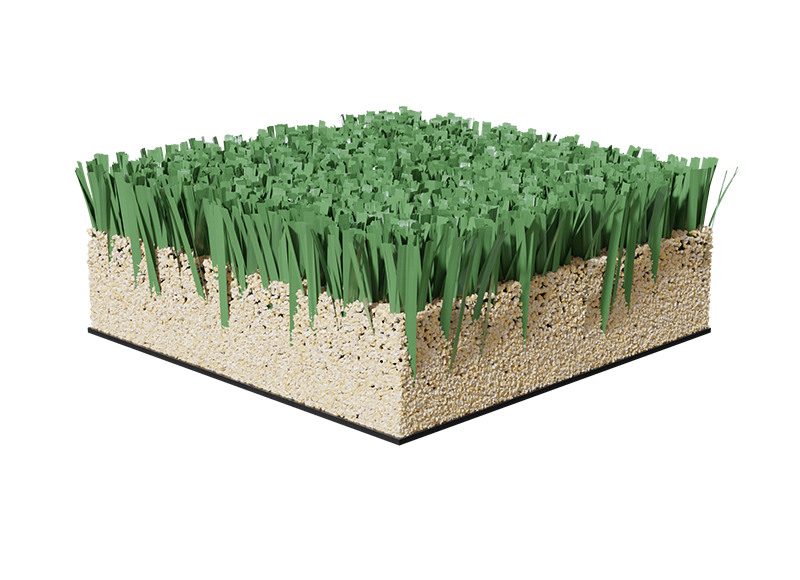 REACT ARTIFICIAL TURF
React is the ideal artificial turf  for multisport sport fields thanks to its high impact  and stress resistance.
Because of these characteristics, React is made with a sophisticated yarn, totally  made in Italy with a  pre-fibrillated polyethylene that guarantees a unique ball bounce  performances  and allows the player to make short and rapid movements.
The surface therefore satisfies the requirements of every kind of player and doesn't  change over time.
Moreover  React range is the right technical and economic compromise to build multipurpose tennis, five-a-side football and volleyball fields, thanks to the infill made up only of washed and dried silica / quartz sand ; it is able to guarantee a constant and continuous ball bounce.
Main certifications:
The yarn is free from lead and similar derivatives
UVA  – UVB certifications
Polyethylene EN 15330
Chlorine and salt certification
Antitoxicity
Fire
Material plast EN 14372
CPSC-CH-1002-08 US standard
High and durable resilience. Sophisticated yarn that guarantees unique performance.
Why choose React Artificial turf:
Available in polyethylene this artificial turf for multisport sports fields has a high and long-lasting resilience.
A quality product which is safe and easy to manage: the synthetic turf does not require special maintenance and nor does the field need to be cleaned after each game; and let's not forget that an artificial turf field means use is possible all year round.
Even if exposed to UV rays, React does not heat up excessively.
Artificial turf for Multisport sports fields: advantages
Game speeds suitable for all types of players
Stable, wide and controlled ball rebound
Excellent grip under the player's feet
Also ideal for those suffering from lower joint problems