Flash TTC Artificial turf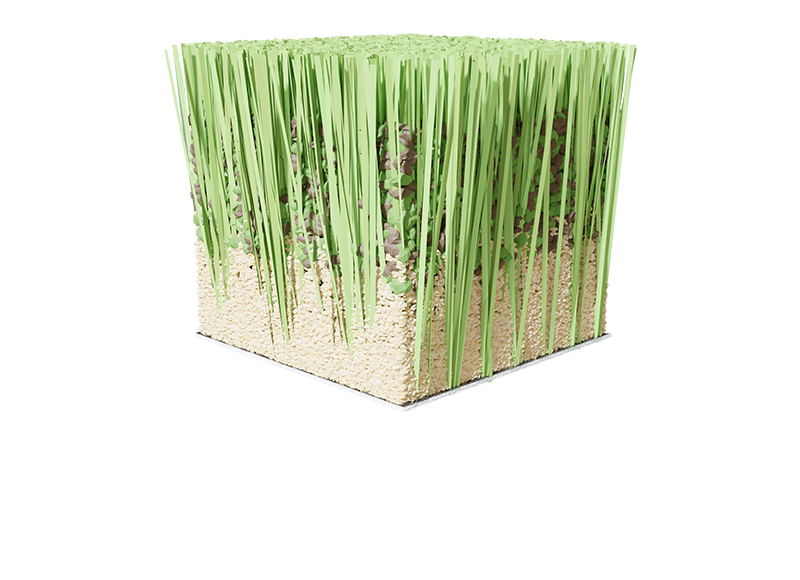 FLASH TTC ARTIFICIAL TURF
Flash TTC is made  of a monofilament, single extruded fibre, with a section characterized by a central reinforced thickening, designed to ensure resilience, durability and keep game performance at its best.
The turf is made with 100% latest generation Polyethylene yarn composed  by 6 filaments of 345 micron each, in two shades of green; anti-abrasive treated and with special anti UV treatments.
The quality of the polymers and the particular yarn extrusion technology  guarantee  : game comfort,  high performance, reduced abrasion coefficient,  constant return of the fibre to its vertical position.
The special treatment applied to the yarn allows a  reduced light refraction and excellent game performance even in bad weather conditions.
The permeability of the turf  is guaranteed  by special holes, made during the final stage of processing, which are positioned regularly on the support and which allow rainwater to flow below the turf facilitating  drainage.
Main certifications:
L.N.D. Federation
Labosport laboratory
UNI – EN 1097 -3-: 1999
UNI – EN 13744: 2005
UNI – EN 13744:2006
ECO-NEXT TEST
CSI certificato di conformità Doc. 003/1
RAGGI UVA UVB
TUFTING LOCK TEST
PEF
Height : 40/50/60 mm
Points per sqm: 8.000 9.000 10.000 11.000
Dtex yarn: 13.500
Micron : 345
Finishing : Latex/ Eco-next
Rolls Availability : taylor made
Colour: b-colours green
Single wire, single color textured green. Versatile coat with curled effect, high tear and wear resistance.
Why choose Flash TTC Artificial turf:
Even more resistant and reliable, the new artificial turf for soccer and rugby fields is perfectly suited to even the most demanding of requirements.
LND (National Amateur League) approved, Flash is ideal for the construction of sports fields for football and rugby thanks to its different thicknesses that allow it to satisfy the performance requirements of the various sports.
As with all Safitex turfs, Flash is synonymous with quality too, a guarantee for all those who want a long-lasting product, capable of maintaining its best performance even if subjected to multiple stresses and tears.
Artificial turf for soccer and rugby fields: advantages
Decreased fatigue and muscle trauma of players
Ball control in all phases of the game
Very high performanc;
Quality of play not comparable with other turfs, thanks to the textile structure of the turf